Welcome to Raptures of Folly!
I assume that most of the visitor's have wondered either why I called this blog so or if they do, they have never met me in real life. Both groups shall now get some answers to their most urgent questions. If there are any questions left, please don't hesitate asking them in a comment or a mail.
Well then, Raptures of Folly is the title of epigram 409 by the Scottish poet Robert Burns written in 1793:



I discovered Burns a couple of months ago while pursuing one of my greatest passions: period drama and Georgian/Victorian literature. The passion is his poems caught me in the blink of an eye and followed me ever since… if anybody with a say in this should ever read this lines: FREE BURNS – PLEASE PLEASE PRETTY PLEASE! – Sorry, back on track. Why did I choose this particular epigram: A while back I had a very funny discussion with a friend concerning this poem or my sending her the poem was rather the summing up of an ongoing mocking on both sides. I often happen to be youngest or among the younger ones in a crowed of like-minded people and have used the poem since the afore mentioned friendly banter on different occasions – but always to my advantage. I love the thought of there being lucky occurrences that would have been prevented by too wise decisions… that sillyness and spontaneity can lead to positive outcomes – I do count on this being true… big time.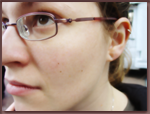 Ok then. The other side: Hey folks that know my passions for literature and graphic arts and my other (well-)hidden abysms, I do have a regular life in which I am a regular student working on her master thesis on child research. I hope to be done with it by early autumn when I'm planing to start working for money instead of grades. I recently moved to another country which is about as tiny as my homecountry but lies up in the windy North instead of the snowy South. The emigration was for my OH – of course – but wasn't that painful since I already knew country, culture and language fairly well. I miss family and friends though but modern times brought us means of communication that overcoming the distance seems an easy task… most of the times *sniffs*
Ok – that was the About… in a nutshell so to say… more about all of the above is to be read in the posts or to be asked specifically.